There's a great discussion on the collib-l listserv about having a link to the library's homepage on a college's homepage.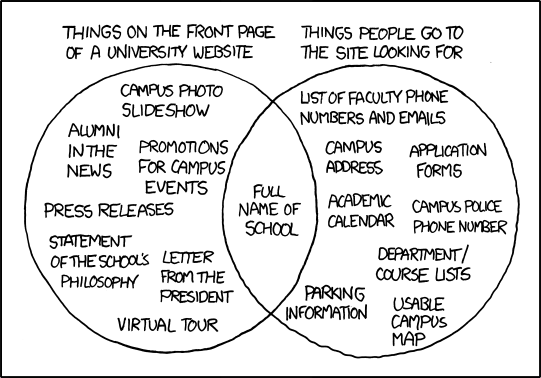 A couple of years ago I attended LACUNY Institute 2012, where Jeffrey Hoover, a library architect from Tappe & Associates, talked about how a higher education institute can be partially judged by its library. It was interesting discussion about how the library can be at the heart of a campus, providing information resources and study space(s) for its students.
The current discussion on collib-l is the lack of a link to a library's website on their institutional homepage. Some librarians mentioned that if it's not prominently displayed within the header or in the top navigation, then it's buried deep within the college or university's website. Usually, it's placed under "Academics." At my particular institution, our library site is buried under "Quicklinks…" a drop down menu of heavily used content, arranged in alphabetical order. If you were an incoming freshman and wanted to know about the library, would you necessarily go to the "Quicklinks" drop-down menu? What if you were a parent or even a faculty member? Would you know that the library is a Quicklink away? After talking to a colleague, I did a quick survey and found that City Tech is one of two CUNY colleges that do not have a prominent link to the library website on the institution's homepage.
If Hoover is correct in that a library's physical space is a reflection of an institution, then I can think we can say the same for our virtual spaces as well. Links to a library's website should be front and center if it truly supports the many facets of learning within an institution. After all, much of students' tuition fees are used to cover expensive database subscriptions, technology equipment, and monographs. Wouldn't it make sense that students who are paying for those resources have quick and direct access to them?